Il produttore di giochi online Novomatic presenta Spring Queen slot machine online. Ogni stagione ha le sue particolari qualità che la caratterizzano; in estate la natura è ricca e vibrante ed il sole è alto nel cielo. Durante l'autunno, gli alberi e le foglie prendono vita grazie ad una moltitudine di colori. La stagione invernale invece richiama alla memoria il bianco della neve che ricopre tutto sotto il suo soffice manto. E infine abbiamo la primavera! Il periodo dell'anno che porta nuova vita e nuovi inizi. Prendendo inspirazione da questa stupenda stagione, Spring Queen è caratterizzata da sgargianti gradazioni del colore verde, ma questo gioco non ha solo la bellezza della fresca primavera da offrire; pronti a saperne di più?
Leggi la recensione completa qui sotto
I visitatori devono verificare la loro età prima di giocare
Over 10
Your data will not be saved
We'll never contact you
We'll never share your data
Quick, easy and I was playing free slots in under a minute. - Chris H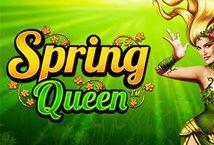 Spiacente, questo gioco al momento no e disponibile.
Altre Slot Gratis

 Cliccando confermo di avere più di 18 anni

Bonus fino a 200€
Info offerta
T&C. Offerta valida per i nuovi clienti registrati. Termini e condizioni su bwin.it Conc. n. 15026. bwin Italia S.r.l. Il gioco è vietato ai minori e può causare dipendenza patologica. Visita le sezioni Gioco responsabile su bwin.it e probabilità di vincita su bwin.it e su adm.gov.it


Tema del gioco
È arrivata la primavera! Con la sua sgargiante esplosione di fogliame verde, fiori e colori, è proprio la primavera a fare da protagonista in questa slot machine online. Il sottofondo, di un rigoglioso verde esplosivo, esprime al meglio gli stupendi cambiamenti che la natura ci offre in questa stagione, con la nuova vita animale e vegetale che porta la sensazione di nuovi inizi.
Oltre al sottofondo anche i simboli delle icone sui rulli, che siano numeri o lettere, sono adornati da fiori colorati. Vi sono inoltre una varietà di altri simboli sia fedeli alla tematica naturale che non. Ad esempio troviamo sui rulli il simbolo di un pavone, di un cavallo nero, di un leopardo, e poi sorprendentemente anche quello di una palla di cristallo ed infine il simbolo più importante, quello della nostra protagonista, la Regina di Primavera, la Spring Queen.
I simboli prendono vita grazie ad una eccellente grafica ed al dettaglio investito del design; notiamo per esempio la lussuosa criniera del cavallo, i baffi del leopardo o la grandissima coda multicolore del pavone. Questo è un gioco dall'estetica decisamente notevole, perfetto per il nome che porta.

Come giocare alla slot Spring Queen
Il display di questo gioco è semplice e diretto e facile da accedere e da capire per tutti gli utenti. La slot machine Spring Queen è inoltre disponibile per l'accesso sia tramite desktop che tramite dispositivi mobili come tablet e telefonini. I tasti per il gioco sono tutti situati sul fondo dello schermo.
Il tasto Start per iniziare il gioco, Gamble per puntare le scommesse desiderata, Autoplay per attivare una serie di giri automatici dei rulli. È sullo fondo dello schermo che troverete anche le finestrelle che mostrano le cifre delle scommesse totali piazzate, i crediti disponibili e le vincite intascate. Con i simboli del più e del meno potrete selezionare linee diverse di vostra scelta. Questa slot è veramente facilissima e divertentissima da operare.

Giocate subito Gratis
Cosa aspettate allora a fare un tuffo nella primavera di Spring Queen? La slotvi aspetta gratuitamente sul sito Slot Machine Gratis! Non occorre né registrazione né deposito; tutto ciò che vi serve per divertivi a questa e tante altre fantastiche slot firmate Novomatic è una connessione internet. Ricordate che il gioco è disponibile su computer, smartphone e tablet, per un divertimento senza limiti!